Welcome to the Contest of Champions Wiki
"
Welcome Summoner, you have been chosen to represent Earth in a Cosmic Contest of Champions against Kang the Conqueror. I am The Collector, the organizer of this contest.

The stakes are simple: win and you shall be granted untold power. Lose, and you shall be placed in my collection... PERMANENTLY!

"
BUILD YOUR ULTIMATE TEAM OF CHAMPIONS:
Assemble a mighty team of heroes and villains (such as Iron Man, Hulk, Wolverine, Storm, Star-Lord, Gamora, Spider-Man, Deadpool, Thanos, and Winter Soldier) as you embark on quests to defeat Kang and Thanos and face the challenge of a mysterious new super powerful cosmic competitor, ultimately to prevent the total destruction of The Marvel Universe.
COLLECT THE MIGHTIEST HEROES (AND VILLAINS!):
Collect, level up, and manage your teams of heroes and villains wisely to receive synergy bonuses based upon relationships taken from the pages of Marvel Comics (such as pairing up Black Panther and Storm or Cyclops and Wolverine for bonuses, or making a team such as the Guardians of the Galaxy). The more powerful the hero/villain, the better their stats, abilities and special moves will be.
QUEST AND BATTLE:
Journey through an exciting storyline in classic Marvel fashion as you explore dynamic quest maps and engage in a healthy dose of action-packed fighting utilizing controls developed specifically for the mobile platform. Fight it out with a huge array of heroes and villains in iconic locations spanning the Marvel Universe such as: Avengers Tower, Oscorp, The Kyln, Wakanda, The Savage Land, Asgard, the S.H.I.E.L.D. Helicarrier, and more!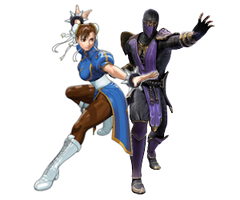 Fighting Games
Go to these sites for info or for help with your own wiki!
Bloody Roar • Capcom • Darkstalkers • Guilty Gear • Injustice: Gods Among Us • Killer Instinct • Mortal Kombat • M.U.G.E.N • Punch-Out! • Skullgirls • SNK • Soulcalibur • Street Fighter • Super Smash Bros. • Tekken • Virtua Fighter
Want your community included? See how!
See all of our Fighting gaming wikis!